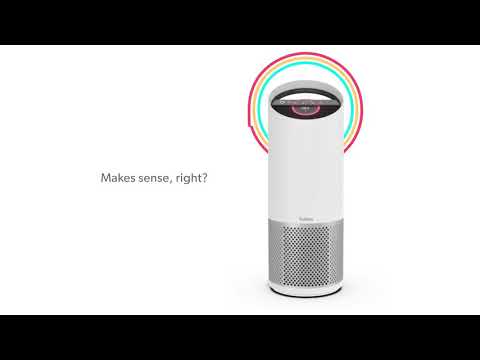 TRUSENS Z-2000 AIR PURIFIER WITH SENSORPOD™
Say goodbye to dust, pollen and other allergens. Contemporary air purifier combines DuPont filtration with a unique approach to delivering cleaner air. Sensing the air around you, TruSens automatically adjusts to the conditions of your air and is engineered to distribute purified air more effectively. Coverage Area / 30 minutes: 375 sq. ft ./ 35 sq. m
For delivery in Singapore, GST will be calculated at checkout.
TRUSENS Z-2000 AIR PURIFIER WITH SENSORPOD™
SKU

202214R

Product Weight

3.97 kg
Say goodbye to dust, pollen and other allergens. Contemporary air purifier combines DuPont filtration with a unique approach to delivering cleaner air. Sensing the air around you, TruSens automatically adjusts to the conditions of your air and is engineered to distribute purified air more effectively.
Place the remote SensorPod™ away from the air purifier to optimize clean air delivery throughout your space. The air purifier will then automatically adjusts fan speed in response to the SensorPod air quality readings.
PureDirect dual air flow technology distributes air more effectively and ensure better overall room coverage, proven to be up to 24% more efficient
Auto mode with air quality indicator keeps you informed on your air quality with a color-coded illuminated ring and numerical value
The 360 degree 4 layer DuPont filter captures pollutants, VOC gases, odors, dust mites, pollen from all directions.
1st layer :

Pre-filter – captures large particles such as pet hairs and dust

2nd layer:

Activated carbon – removes certain gases and odors from the air

3rd layer:

HEPA filter - captures particulate matter down to 0.3 microns (allergens that caused allergy)

4th layer:

UV sterilization - kills germs and bacteria that get trapped in the filter , reduces the growth of germs and bacteria on the surface of the filter
Coverage Area / 30 minutes: 375 sq. ft ./ 35 sq. m
Dimensions (L x W x H): 30 x 30 x 65cm
Approx Shipping Weight: 3.97kg
Come with 2-year Singapore, Sri Lanka, Thailand, Philippines, Myanmar & Vietnam warranty against manufacturing defect
Brand Origin: USA