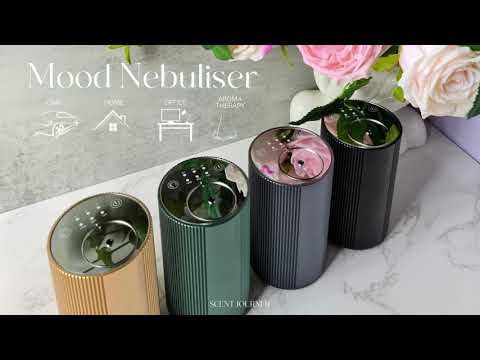 SCENT JOURNER MOOD NEBULISER MIDNIGHT THOUGHTS
For delivery in Singapore, GST will be calculated at checkout.
Delivery is applicable for Singapore addresses only.
SCENT JOURNER MOOD NEBULISER MIDNIGHT THOUGHTS
SKU

K355161

Product Weight

0.53 kg
What it is:
The perfect relaxing holiday set. Contains 3 x 10ml Mood Essence by Scent Journer has the power to uplift your mood. It helps to create a calm and serene environment and also centers the mind whenever you are with the smart Mood Nebuliser.

How does it smell
A VIBRANT & LUMINOUS ROSY FLORAL
THE BLOOMING JEWEL reveals fresh blooming roses glowing beautifully under the luminous sun like jewels, bringing you the celebration of spring, to new beginnings.

A WARM AROMATIC & RELAXING FLORAL
Dancing blue bees brings you on a journey to the aromatic golden blue sea of lavenders under the sun-drenched bergamot air.

A SENSUAL & CREAMY WHITE FLORALS
Clouds in heaven capture the sensation of cotton soft clouds high above the world. An invitation to the serene sensuality of Clouds in heaven.

What it does:
Smart Cold diffusion: Perfect for humid climate and hassle free.
No water: hassle free and does not increase humidity of room.
No heat: Maintain integrity of mood essence, remove fire hazard.
Wireless and portable: 1 device to use in your home, car and office.

Full intensity and timer control: Set the perfect intensity at the space you are in.