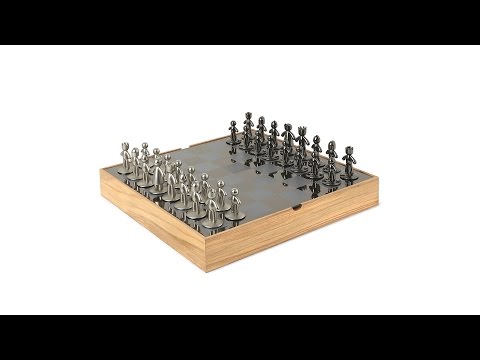 UMBRA BUDDY CHESS SET - NATURAL
Buddy Chess Set is an elegant addition to any space, able to serve as eye-catching decor when not in use. It sports polished black and charcoal tiles and cast zinc chess pieces with nickel and titanium finishes. The board's glossy coating, in combination with the velvet lining under the individual pieces allows for optimal movement of the Buddy chess pieces.
Measuring 13 x 13 x 1.5 inch (33 x 33 x 4 cm), this chessboard is both a practical size for chess games, and able to be easily packed away for hassle-free storage.
For delivery in Singapore, GST will be calculated at checkout.
Delivery is applicable for Singapore addresses only.
UMBRA BUDDY CHESS SET - NATURAL
SKU

K344162

Product Weight

5.5 kg
Sleek And Modern: Featuring an ashwood frame with black and gray tiles, Buddy Chess Set is a modern take on a classic game
Functional: With velvet padding lining the surface of each chess piece, the Buddy chess pieces are easily moveable
Easily Stored: Simply pack away and store Buddy with its strategic hidden compartment, which holds the 32 metal chess pieces. The product's flat square shape makes the set both stackable and portable
Playful Design: Made of cast zinc, Buddy's chess pieces represent different Buddy figurines, for an added playful element

Dimensions: 35cm (L) x 36cm (W) x 6cm (H)
Product Weight: 4kg
Brand Origin: Canada