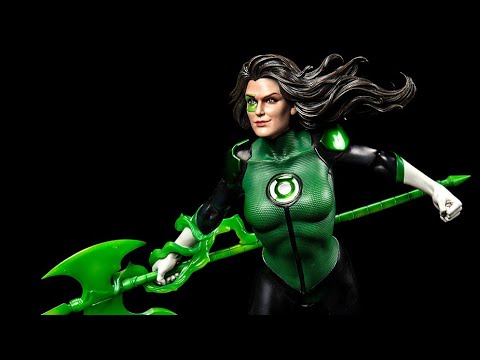 XM STUDIOS JESSICA CRUZ (REBIRTH)
For delivery in Singapore, GST will be calculated at checkout.
This product cannot be delivered to addresses in China.
XM STUDIOS JESSICA CRUZ (REBIRTH)
SKU

K342014

Product Weight

5 kg
XM Studios is excited to present our next 1:6 DC Premium Collectibles DC Rebirth series statue, Jessica Cruz! Immortalized in amazingly detailed 1:6 scale cold-cast porcelain, each painstakingly handcrafted statue is individually hand-painted with the famous XM quality finish.
Size matters, but Quality even more so! The new XM DC 1:6 line is specially designed for collectors who desire more space-friendly collectibles, without compromising on the incredible details and quality of larger collectible pieces. At 1:6 scale, XM's creative direction is to showcase more abilities, powers and essence of the characters in a bold, dynamic and story telling style. The new XM 1:6 DC line will amaze you with the details you don't expect at this scale. Smaller scale, smaller boxes, more affordable shipping and pricing means you can fit more of these incredibly detailed collectibles into your collection!
Description:
Jessica Cruz - Jessica Cruz is a member of the Green Lantern Corps and the Justice League.
The Jessica Cruz (Rebirth) Premium Collectibles statue features:
Jessica Cruz leaps from small chunks of meteorite in outer space as she constructs a battle axe using the power ring's energy construct.
Crafted in cold cast porcelain.
Each painstakingly handcrafted statue is individually hand-painted with the highest possible quality finish
Artists:
Riccardo Federici (Concept)
Philip Herman (Sculpt)
XM Studios Design and Development Team
Product and Box Dimensions
Product size : 22 cm L X 23 cm B X 33 cm H (estimate)
Est. Box Size : 52 cm L X 36 cm B X 24 cm H (estimate)
Est. Product Weight : 2 kg (estimate)
Est. shipping weight : 5 kg (estimate)
Manufactured by:
XM Studios
Note:
Prototype shown and pending final approval, final product may differ. Batteries will not be included for products with light up features due to customs.
Product Warranty:
Limited warranty of 14 days from date of collection against missing parts or defects. Limited Warranty does not cover conditions, malfunctions or damage not resulting from defects in material or workmanship. E.g. Loss, Theft, Breakage due to inappropriate handling.
As with all hand-crafted products, no two pieces of products are exactly the same; there are bound to be slight differences or minor imperfections (defined as non-visible in normal usage or viewing conditions). Serious defects are defined as;
Structural instability where products cannot be fitted/displayed properly
Obvious visible cracks, chips, paint scratches
Missing parts or pieces
*** There is no returns policy. All products sold are strictly non-refundable or exchangeable for other products. ***
Materials:
Cold Cast Porcelain