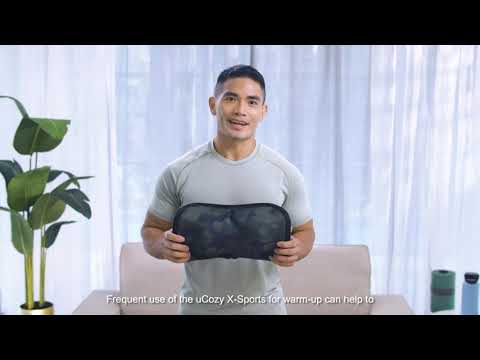 OSIM UCOZY X-SPORTS NECK & SHOULDER MASSAGER
For delivery in Singapore, GST will be calculated at checkout.
Delivery is applicable for Singapore addresses only.
OSIM UCOZY X-SPORTS NECK & SHOULDER MASSAGER
SKU

K330600

Product Weight

2.05 kg
For warm-up and post-workout recovery
uCozy X-Sports provides a 3 in 1 Sports Massage that automatically kneads and stretches your muscles with warmth like a sports massage therapist. Easily and effortlessly add to your warm-up and cool-down routine, to enhance your performance and recovery.
3-in-1 Sports Massage for full body relief
With dual directional 3D rollers and warmth, uCozy X-Sports is perfect for a warm up massage and post-workout sore muscle relief that is suitable for use on your whole body.
3D Rollers
protruding 3D rollers that effectively knead into the muscle layers of your whole body, relieving muscle soreness and tightness.
Dual Directional
Auto rotates every minute, the 360° rollers stretch and unknot your muscle tissues to increase flexibility and range of motions.
Soothing Warmth
Mimic the warmth of the human touch, the soothing warmth promotes circulation and further alleviates aches.
Effortless postures to target upper and lower body
Using a foam roller can be tedious, especially after a vigorous workout. With uCozy X-Sports, you can effortlessly warm up before workout and massage for post-workout recovery.
Upper Body
Neck & Shoulders
Upper Back
Triceps
Lumbar
Lower Body
Glutes
Quads
Hamstrings
Calves
Portable to bring to gym and fitness studios!
Clean and wipe easily
Simply use a dry microfiber cloth to wipe the surface and keep uCozy X-Sports clean from natural body oils.
One touch button
With only one button, you can easily press & hold to power off, or press once to toggle the warmth function.
Detachable elastic strap
Comes with a detachable strap so you can strap uCozy X-sports onto most chairs to target neck and lumbar while seated!
Dimension:
37cm(L) x 20cm (W) x 14cm(H)
Net Weight:
Approx. 1.4Kg
Auto timer:
20 minutes
Voltage:
220-240V ~ 50/60Hz (Input) ; 12V (Output)
Power Consumption:
30W
Warranty:
1 Year Local Warranty
Brand Origin:
Singapore