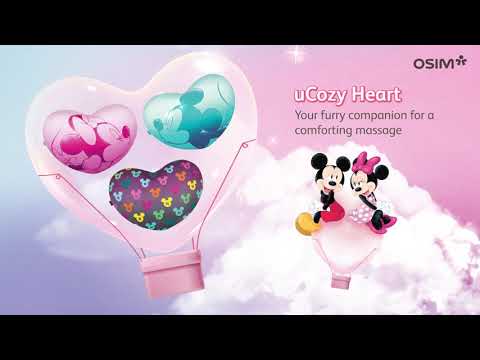 OSIM UCOZY HEART (KISSY MICKEY) PORTABLE MASSAGER
For delivery in Singapore, GST will be calculated at checkout.
Delivery is applicable for Singapore addresses only.
OSIM UCOZY HEART (KISSY MICKEY) PORTABLE MASSAGER
SKU

K330598

Product Weight

3 kg
Cuddly portable massager for effective spot-on relief.
Designed for comfort, the OSIM uCozy Heart soothes muscle aches on your back, shoulders and back while providing you with a comforting hug to brighten up your day.
Dual-directional kneading massage
The 4 ergonomically designed massage nodes ease tense and aching muscles with their robust dual-directional kneading action.
Comforting Warmth
The soothing warmth function further enhances circulation and melts away tension to ease sore, aching muscles.
Rechargeable and portable
Usable up to 60 minutes with every full charge, the portable uCozy Heart is your trusty companion for every relaxing moment. Enjoy fuss-free and effective massage to relax overused and tired muscles at your convenience.
Dimension:
45.5cm(L) x 15.5cm (W) x 32cm(H)
Net Weight:
Approx. 1.99Kg
Voltage:
220-240V ~ 50/60Hz (Input) ; 12.8V - 2.5A (Output)
Power Consumption:
25.6W
Warranty:
1 Year Local Warranty
Brand Origin:
Singapore