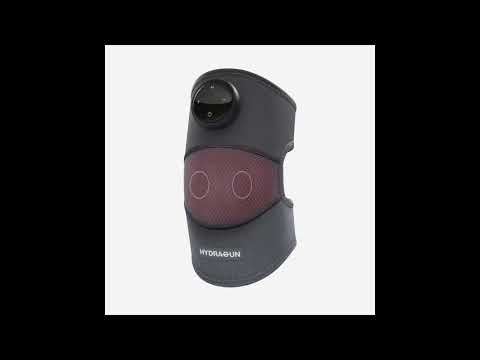 HYDRAGUN HEATPULSE KNEE MASSAGER
For delivery in Singapore, GST will be calculated at checkout.
Item is ineligible for PPS Club Voucher redemption.
HYDRAGUN HEATPULSE KNEE MASSAGER
SKU

K344023

Product Weight

1.1 kg
HeatLast™ infrared graphene technology
- Provides an hour of gentle, steady warmth to the knee joint. Choose from five levels of heat, ranging from 40-60°C (104-140°F).
Silkro™ fabric
- HeatPulse Knee Massager allows for a snug, customized fit on any knee. Enjoy over an hour of soothing heated massage for a lasting, fuss-free and effective recovery experience.
Pulse vibration
- Dual vibrating cores hug both sides of the knee to provide targeted 80-100z pulses to the patella, stimulating blood circulation and proving lasting relief from tightness, soreness and pain. Choose from three speeds for different intensities.
Industry-leading battery life
- Reliably provides up to 30 minutes of therapy on each knee.
Soothing and safe
- Optimally-calibrated temperature range of 40-60°C (104-140°F) for gentle and effective treatment.
Fuss-free
- Refined user design for a comfortable, convenient recovery experience.
The HeatPulse is designed for:
Knee Arthritis
- Relieve chronic knee stiffness and pain. Speed up healing of acute knee pain
Knee injuries and post-surgery recovery
- Improve blood flow to ease age-related joint tension and increase flexibility. Heal damaged tissues by increasing blood flow to the knee delivering more oxygen and nutrients to the damaged ligaments.
High-impact sports
- Speed up post-exercise recovery. Manage overexertion of knee joints after high-impact activity.
Other Information
Model: S1719ED
Measurements: 30 x 17 x 6.7 cm
Approximate weight: 1.04 KG
Composition/ Material: 4-button digital interface placed on breathable, moisture-wicking polyester mesh lining
Care Instructions: Wipe down with a slightly damp cloth or sanitize with alcohol sprays or wipes. Do not soak, wash, or submerge in water. Air dry after cleaning and make sure the sleeve is completely dry before attaching the pod and turning it on.
Warranty (By vendor)
18 Months
On motor, frame, parts
Applicable in Singapore only